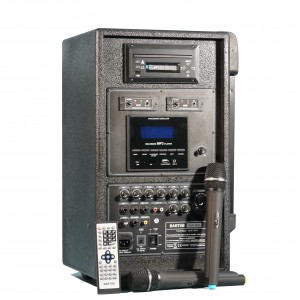 The 50 W SONO range is aimed at communities and education (associations, recreation centres). It reaches an audience of 40-60 people outdoors and 60-100 people indoors.
Supplied with integrated trolley - Remote control - Foot sleeve
Accessories to be ordered separately : < Click here>
These sound systems can be equipped with a CD / DVD player, a K7 player, an MR player, one or two wireless microphones, a battery.
From 21 to 30 kilos 


                             Sonorisation  50 WATTS
 * Optional micro hand or micro headhand VHF
** 2 Micros hand VHF